Parish BBQ
Thursday May 4th Day of Palliative Care
Details can be found here.
Parish Pancake Breakfast
Sunday March 19th following 10:00 Mass
Join us for pancakes, sausage, eggs, maple syrup and coffee and tea and good company.
St. Teresa Catholic Women's League Twilight Retreat
Tuesday March 28th at 5:00pm
Join us for our Annual Twilight Retreat . Our guest speaker is Father Brian Quigley MCCJ of the Comboni Missionaries. Please see the poster below for more details.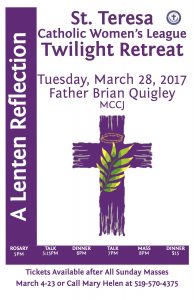 Family Day Soup and Sandwiches
Monday February 20th at noon
This is a great opportunity to visit with others in the parish community.
Free will donations to cover expenses will be appreciated.
Parish Christmas Party
Saturday, December 10th following the 5 p.m. Mass.
We will enjoy turkey, mashed potatoes, gravy, stuffing, vegetable and cranberries. There will be sign-up sheets at the doors of the church the weekends of November 26/27 and December 3/4. A free will offering will be gratefully accepted the night of the dinner and everyone is asked to bring either a salad or dessert. If your last name starts with A to M bring a salad and N to Z please bring a dessert. Everyone is welcome!
CWL – Christmas Craft and Bake Sale
November 26th and 27th after both Masses!!
Donations of crafts, baking, penny sale items, pre-loved items are all appreciated. Ladies meet in the lower hall off Leonard Street every Thursday from 7:00 to 8 p.m. to sort and get ready for the sale. Donations can be dropped off then or you can come and help us out. Contact 519-578-2019.