---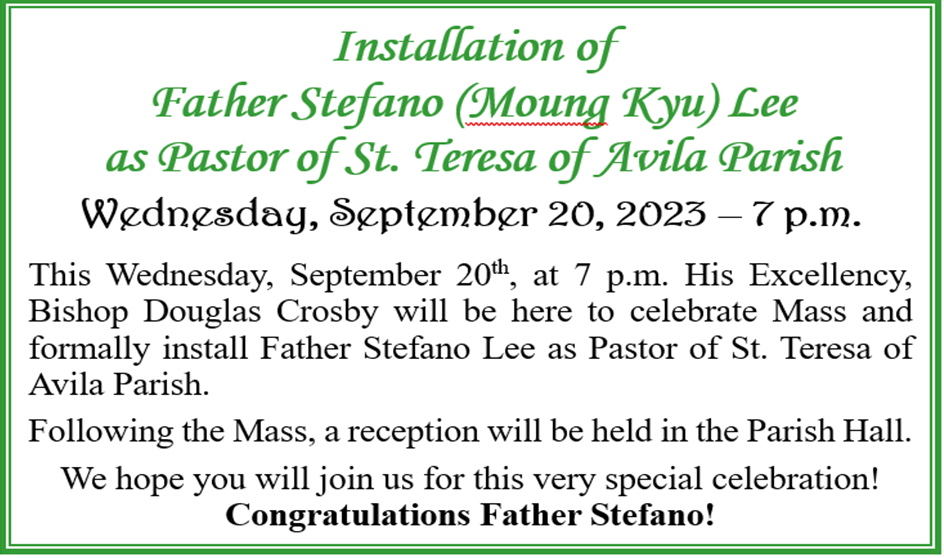 ---
Please check the bulletin for the Regular Mass schedule.
Weekend Mass Times
Saturday Evening: 5:00 PM
Sunday Morning: 10:00 AM
Weekday Mass Times
Tuesday Evening: 7:00 PM
Wednesday-Friday Mornings: 8:30 AM
Saturday Morning: 9:00 AM (excluding August)
---
The Sacrament of Reconciliation
30 minutes prior to each Mass, except Sunday
4:15 PM to 4:45 PM on Saturday evenings
Healing Mass
First Fridays from Sept to June: 7:00 PM
---
Divine Mercy Chapel
"Come you who are weary and are heavily burdened and I will give you rest."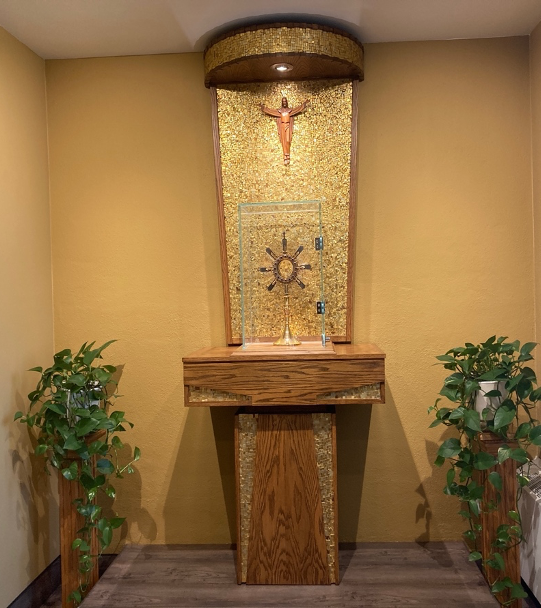 Adoration of the Most Blessed Sacrament
Monday to Friday 9:00 AM to 8:00 PM
(Closed on Holiday Mondays)
More Information about Adoration of the Blessed Sacrament
---
Ways to Give
Pre-Authorized Giving
Pre-Authorized Giving is now available for our parishioners. A digital copy of the form is below. Simply print the form and complete it. For those unable to print the digital copy, please contact the Parish Office. Completed forms can be returned to the Parish Office via the slot in the Parish Office door or can be mailed to: St Teresa of Avila Parish, 44 Leonard St., Kitchener, ON N2H 6C8
E-Transfer
Exciting news – We are now able to provide E-Transfer to our parishioners. For E-Transfers, please use the following email account: stteresakitchener@hamiltondiocese.com
CanadaHelps
To support our parish via credit card or PayPal please visit canadahelps.org You can access our parish directly by following this link:
https://www.canadahelps.org/en/dn/59306
Refer to the bulletin for more information
---
TV & Online Masses
During this time of COVID-19, if you are unable to celebrate Mass in person, you can still spiritually participate in the celebration of the Mass.
Televised Masses:
Salt and Light (Channel 240, Rogers Cable)
Monday to Saturday: 6:30 AM, 9:30 AM, 11:00 AM, 3:00 PM, 10:30 PM
Sunday: 11:00 AM,10:30 PM
Vision TV (Channel 27, Rogers Cable)
Monday to Friday: 8:00 AM, 12:00 PM
Sunday: 8:00 AM
Joy TV (Channel 173, Rogers Cable or Channel 656, Bell Satellite)
Monday to Friday: 10:30 AM, 4:00 PM
Sunday: 10:30 AM
On-Line Masses:
---
---
Be inspired by the words and updates from His Excellency, Bishop Douglas Crosby.
---